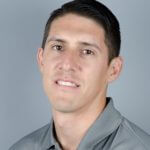 Andres A . Rubal
andres@axiaappraisers.com
Andres A. "Dre" Rubal has been with the firm since 2007. He is a Certified General Real Estate Appraiser and a licensed real estate agent in the State of Arizona. Dre is a Tucson native and has valuation experience in Tucson, Phoenix, southern Arizona, Mohave County and northern Arizona. He has a broad appraisal education background and is presently pursing the MAI designation. Dre obtained his bachelor's degree in geography, with a minor in GIS, from the University of Arizona in May 2007.
Dre has appraised numerous residential and commercial properties. He focuses on eminent domain appraisals, having completed numerous assignments in Tucson and Maricopa County. He also appraises industrial facilities, apartments, subdivisions, retail and office, and other commercially oriented properties. Dre is an avid outdoorsman, enjoying fishing, boating and camping, and is a member of Mentor Kids USA.
QUALIFICATIONS OF ANDRES A. RUBAL
State of Arizona Certified General Real Estate Appraiser, Certificate #31801
EMPLOYMENT HISTORY
2007 – Present AXIA Real Estate Appraisers (previously known as KB Real EstateAppraisers), as Commercial Real Estate Appraiser and Valuation Analyst, Tucson, Arizona
PROFESSIONAL AFFILIATIONS AND MEMBERSHIPS
Licensed Real Estate Broker, State of Arizona
Affiliate member of Southern Arizona CCIM Chapter
FORMAL & PROFESSIONAL EDUCATION
Bachelor of Arts in Geography, University of Arizona with a minor in Geographic InformationSystems (GIS), 2007
APPRAISAL EXPERIENCE/SCOPE OF PRACTICE
Clientele includes private individuals, corporate organizations, financial institutions, and governmental agencies.
Appraisal assignments include industrial properties, improved and vacant land, subdivisions, detached single-family residences, office and retail buildings, as well as numerous special use properties.
Experience in preparation of reports for conventional lending, SBA, eminent domainwork and consultations.
Appraisal assignments have been completed in Pima, Maricopa, Pinal, Cochise, Santa Cruz, Yuma, Coconino, Graham, Yavapai, Navajo, and Mohave Counties within the State of Arizona.