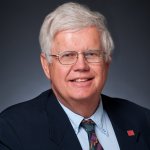 James S. Bradley, MAI, AI-GRS, CCIM
jim@axiaappraisers.com
Jim grew up in Tucson and attended the University of Arizona, obtaining a BS in business administration with an emphasis in marketing. He entered real estate as a salesman and then as a broker in western Colorado in the late 1970s. During his time in Colorado, Jim received a Certificate of Achievement in Real Estate from the University of Colorado (1981).
Jim moved back to Tucson in 1985 to work as a commercial real estate appraiser. He obtained his Arizona broker's license the same year. In 1991 he became a Certified Real Estate Appraiser in Arizona, and in 1993 he obtained his MAI designation from the Appraisal Institute.
Over the past 25-plus years, Jim has attended numerous continuing education classes, and in 2009, he obtained his CCIM designation. Jim is currently working on obtaining his SR/WA designation from the IRWA.
His areas of expertise include eminent domain, estate planning, consultation, and litigation support.
QUALIFICATIONS OF JAMES S. BRADLEY, MAI, CCIM
State of Arizona Certified General Real Estate Appraiser, Certificate #30432
State of Colorado Certified General Real Estate Appraiser, Certificate #1321969
PROFESSIONAL EXPERIENCE
1988 – Present AXIA Real Estate Appraisers, as Principal Appraiser/Consultant, President since 1996 (previously known as KB Real Estate Appraisers).
1985 – 1988 Greenberg Chin and Associates, Inc., Real Estate Consultants and Appraisers, as Associate Consultant/Appraiser under Neil O. Kleinman, MAI
1983 – 1984 Real Estate Broker in Grand Junction, Colorado, working in commercial sales and property management
1981 – 1983 Real Estate Broker in Cortez, Colorado, in residential and rural sales
PROFESSIONAL AFFILIATIONS AND MEMBERSHIPS
Member, #9888 of the Appraisal Institute (MAI). The Institute conducts a voluntary program of continuing education for its designated members. MAI's who meet the minimum standards of this program are awarded periodic educational certification. Mr. Bradley received his designation in 1993 and is certified under this program through 2015.
Member # 15817 of the CCIM Institute. Mr. Bradley received his CCIM designation in April 2009
Member of Chapter 73 International Right of Way Association
Licensed Real Estate Broker, State of Arizona
Big Brothers/Big Sisters of Tucson, Board of Directors (Former Member)
Boys & Girls Clubs of Tucson, Board of Directors
FORMAL EDUCATION
Bachelor of Science in Business Administration, University of Arizona, with major in Marketing/Advertising, 1984
Certificate of Achievement in Real Estate, University of Colorado, 1981